Introduction
This blog-post is a continuation of a past article about hiking tours in the High Tatras mountain range1.
Just as in summer 2020, the plan was to negotiate two mountain saddles in the pohorie: Sedlo prielom and Sedlo sedielko (colored brown on the map below; the 2020 tours are in orange).
1 notes, footnotes and references about translations apply for this article in the same manner as for the other blog-posts about the High Tatras on this website
High Tatras (Vysoké Tatry)
Sedlo sedielko, October 11
Sedlo sedielko (German: Kleiner Sattelpass, Polish: Lodowa Przełęcz) is the highest mountain saddle (2376 meters) in the High Tatras that can be crossed by individual visitors.
Most will traverse this saddle in order to reach the small settlement Tatranská Javorina (1000 meters) in the north at the Polish-Slovakian border, and start either in Tatranská Lesná (915 meters) or in Starý Smokovec (1010 meters)2.
My starting point was in Starý Smokovec. Setting off at the TEŽ train station, the green marked trail led me to Hrebienok ("Little ridge", 1285 meters), through about five kilometers of Malá studená dolina ("Small cold valley") and then to the Téryho chata on 2015 meters.
This section took me about four hours, yet the exhausting part of the tour was still lying ahead.
But it was also the most intriguing part, for you can marvel at some of the highest summits of the High Tatras and the Päť spišských plies which encircle the Téryho chata.
Päť spišských plies are five (päť) mountain lakes (plies, genitive plural form of pleso) of fairly different sizes which were, at this very time of the year, not yet frozen solid as other mountain lakes in the High Tatras.
Climbing the saddle eventually turned out to be tiring, but technically not challenging. Compared to Priečne sedlo, which isn't far off from Sedlo sedielko, it is quite easy an ascent (the descent which leads through Javorová dolina is also not difficult).
2 or vice versa; hiking from north to south is more convenient in my opinion for you have several train stations as potential finishing points
Sedlo prielom, October 12
For reaching Sedlo prielom (Polish: Rohatka, 2290 meters) I ascended to Hrebienok from Starý Smokovec (1010 meters) like the previous day.
A kilometer further north at the Rainerova chata (1301 meters) I turned westwards on a blue marked trail, leading directly to the Zbojnícka chata refuge ("Robber's cottage", 1960 meters).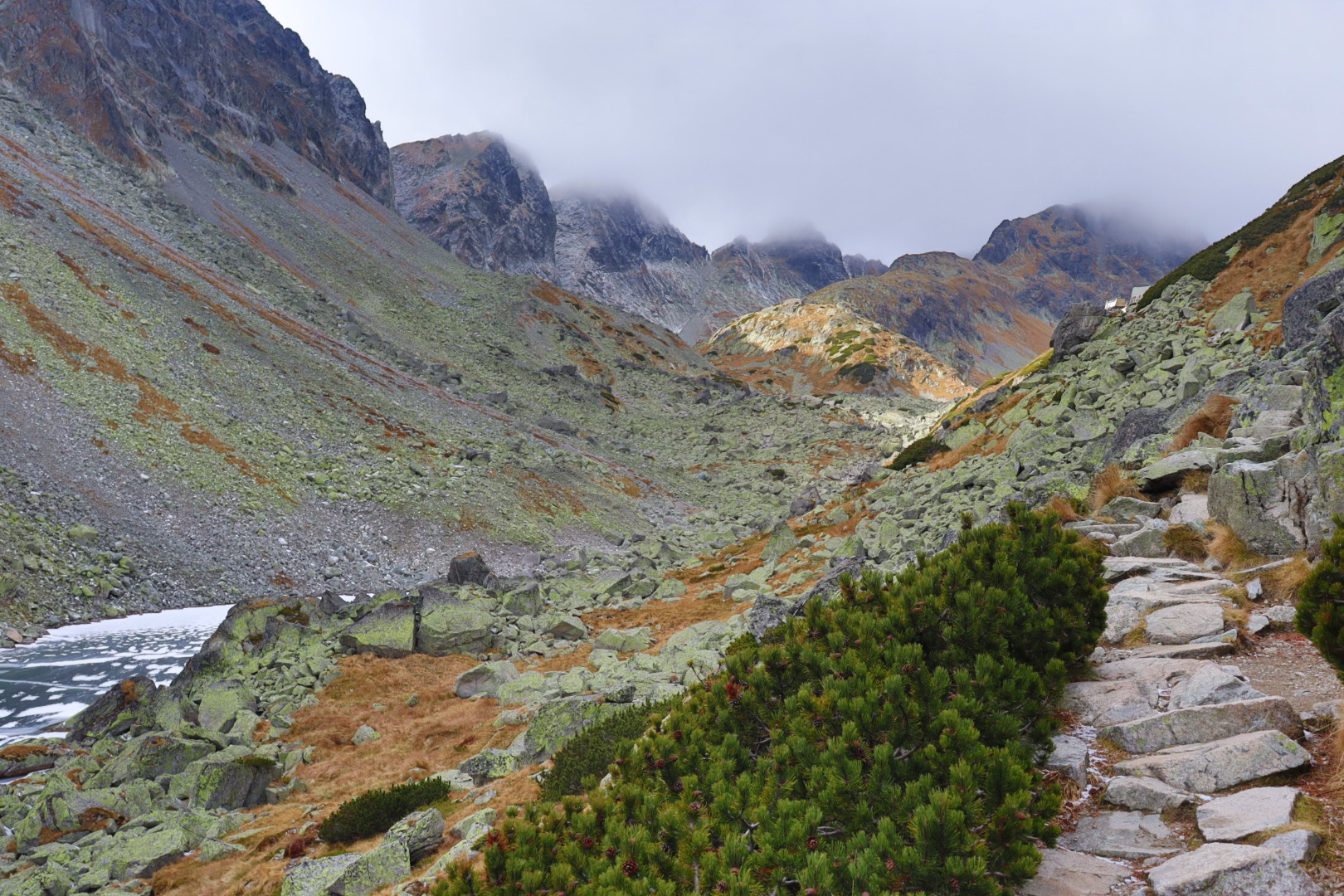 From the blue trailhead on, it's basically marching for three hours straight through Veĺká studená dolina ("Big cold valley"), over an easy to follow rocky path with few via ferrata sections.
Making a longer break at the Zbojnícka chata was a wise idea, since climbing the saddle was way harder than expected (internet-sources claim a difficulty of  B/C) and slightly impeded by freshly fallen snow and poor visibility.
I didn't traverse the saddle in its entirety (proceeding to Poľský hrebeň by crossing a segment of Litvorová dolina that is) because of the unpredictable weather conditions and the lack of time.
I had daylight for just around two more hours and considered it unwise to hike through for me unfamiliar terrain with only a small lamp on my head, and with a sudden fall in temperature occuring at any moment.
No doubt I will do this tour again in the next year.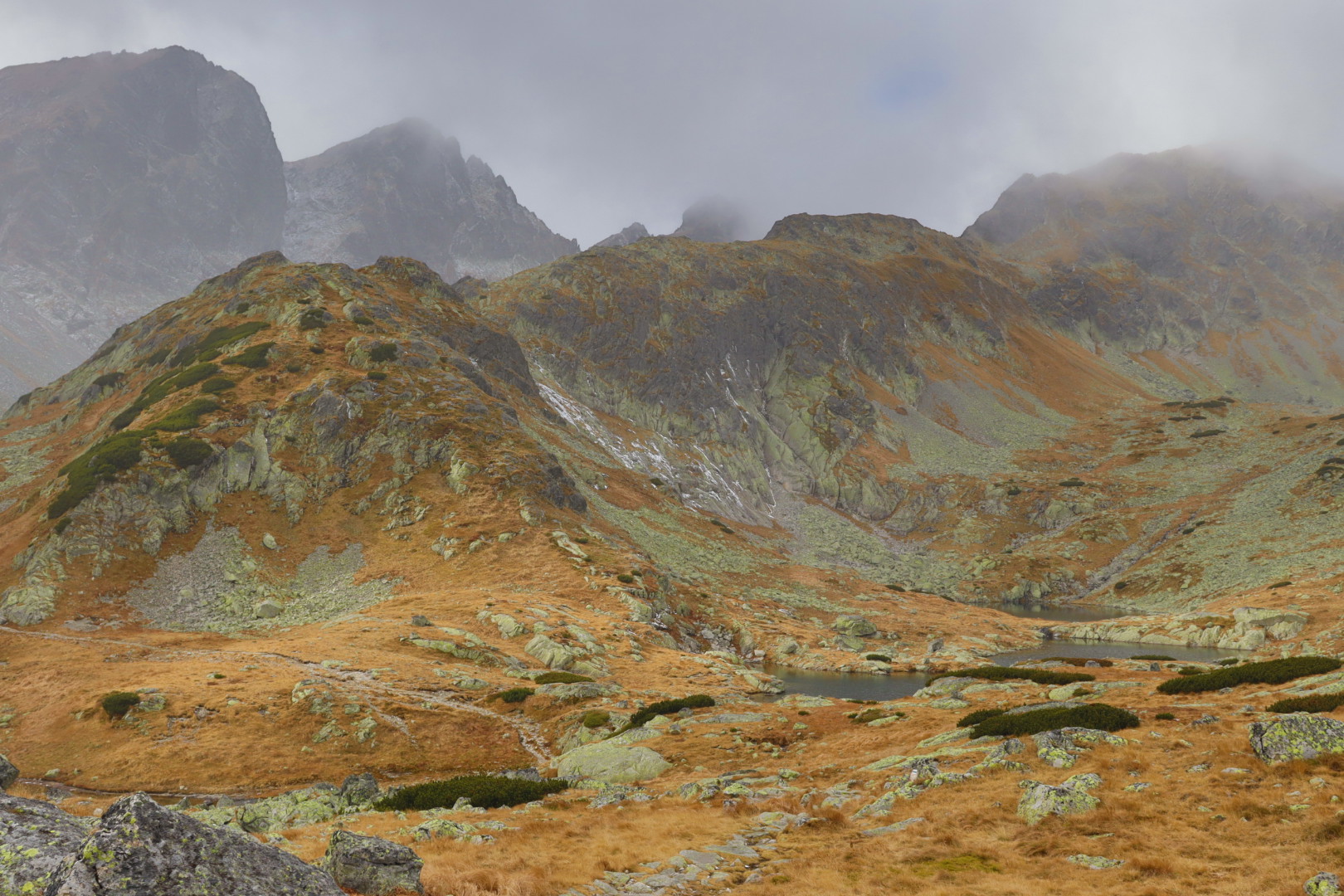 Featured image: Päť spišských plies (Veľké spišské pleso)