Introduction
One of the numerous intangible fantasies I imagined a decade ago was taking long romantic summer walks in picturesque countrysides, the sun is shining, and I do nothing but watching animals and gathering wild fruits and flowers.
Long romantic walks with girls seemed nothing more like naïve daydreams back in these days (and during the better parts of my 20's and 30's), as I led a miserable and isolated yet very comfortable existence.
Thanks to thousands of hours of exposure therapy and expanding my comfort zone, such essentially mundane activities are no longer part of a world I have no access to.
I am able to arrange them now, without much conscious effort.
It's easy – as it should be.
South Bohemia
South Bohemia (Jihočeský kraj) with its capital České Budějovice (Budweis) is one of 14 regions in the Czech Republic (aka Czechia).
Located in the very south of the Czech Republic (with borders to Germany and Austria – I traveled via train from Nuremberg to Linz, and from here to České Budějovice), this rather solitude region with its beautiful landscapes is perfect for long walks as well as extensive hiking or cycling tours.
But this area is also a very good spot for activities like camping, fishing, or sightseeing tours (for example the fairy-tale like Hluboká Castle).
Especially popular in Czechia is whitewater kayaking in artificial or natural whitewater rivers.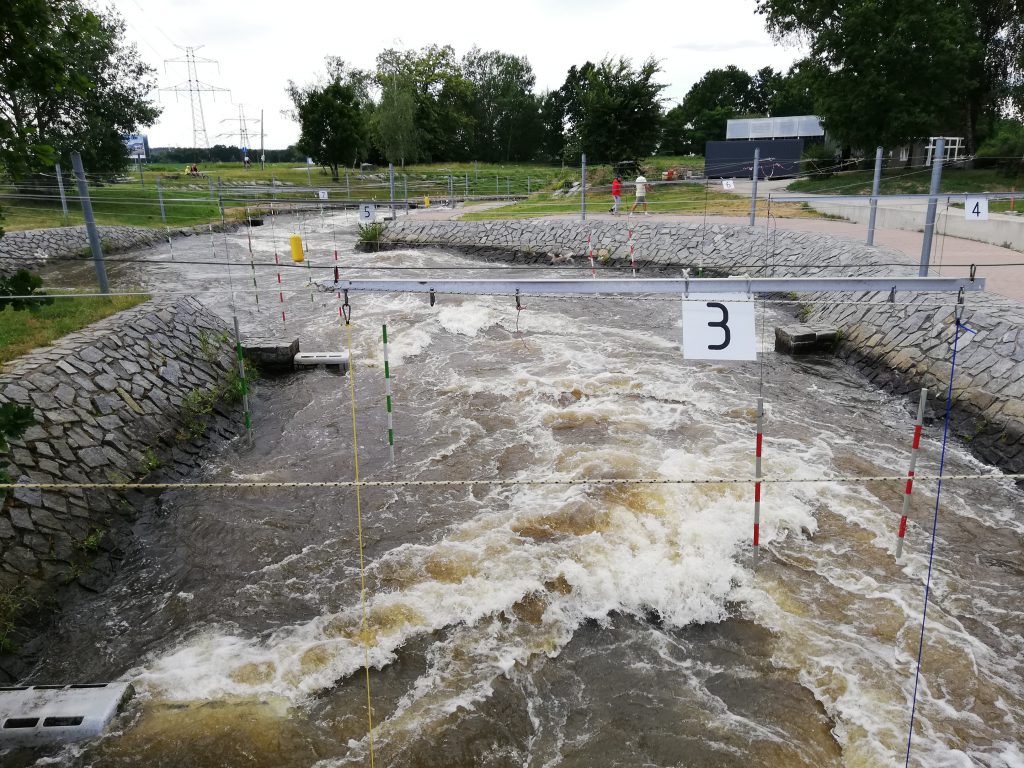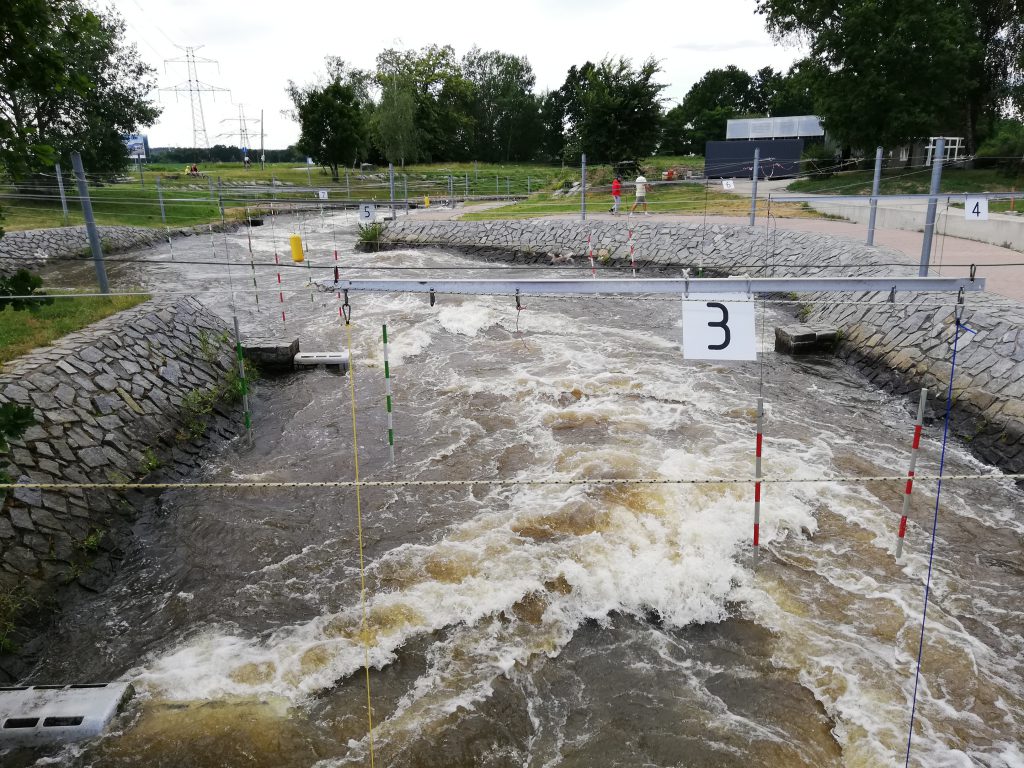 České Budějovice
Budweis or České Budějovice (95.000 inhabitants) is despite its comparatively small size a well-known city, first and foremost due to its long brewing tradition (Budějovický Budvar).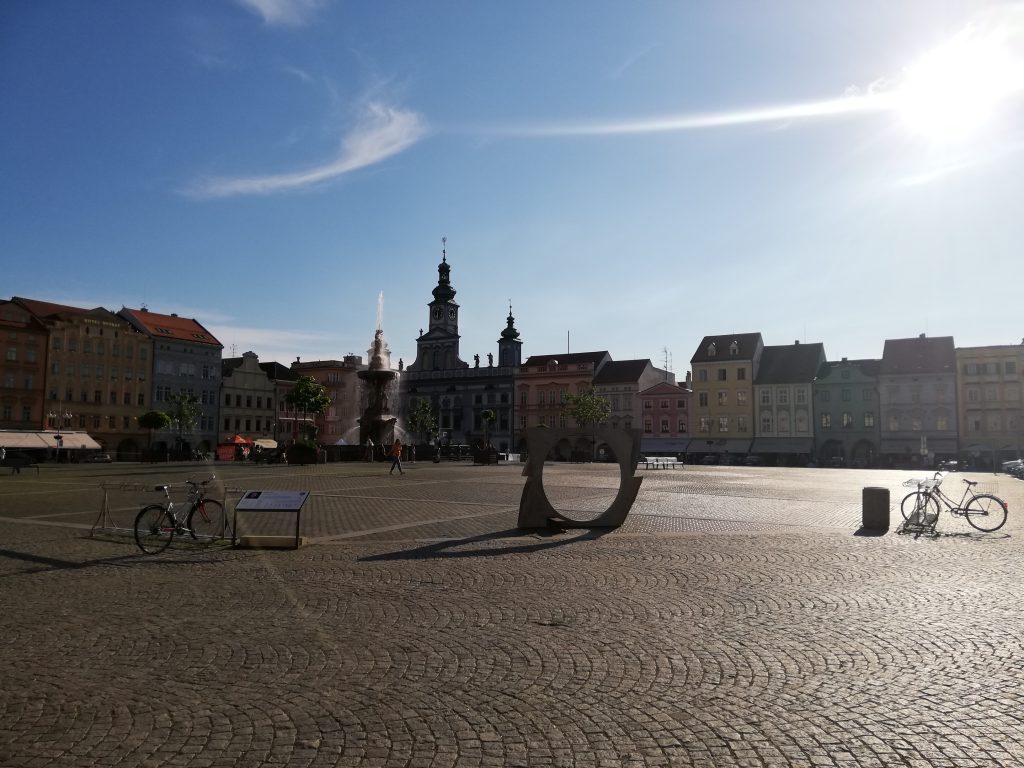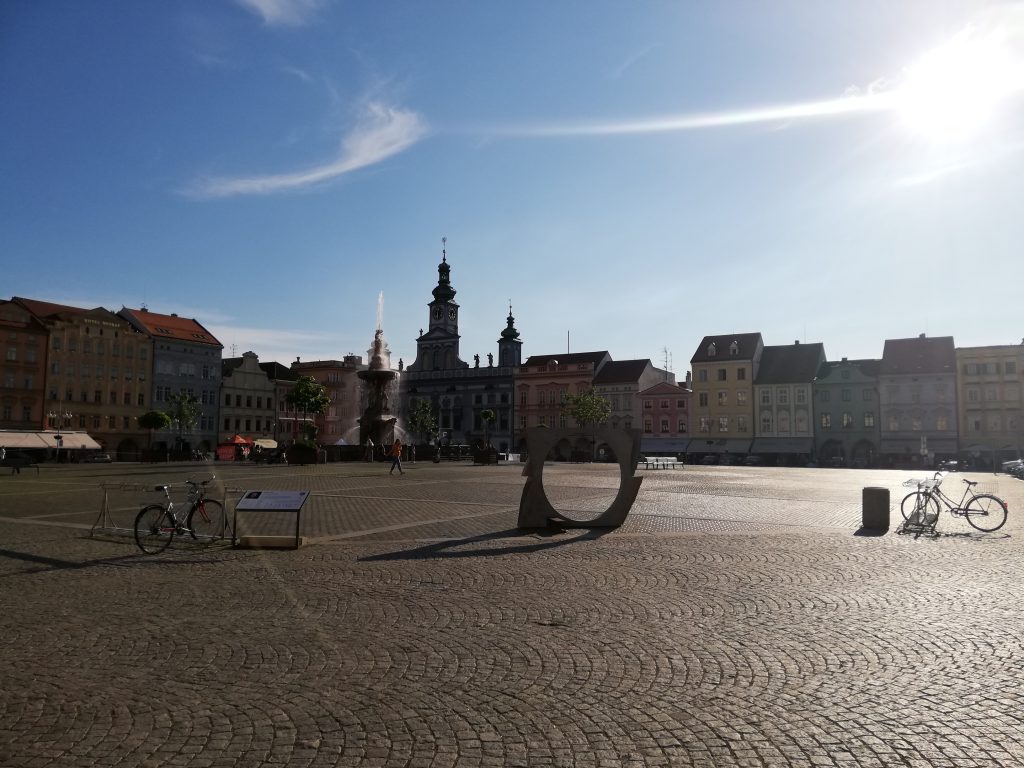 Of course, beer played only an insignificant role during my stay.
I also didn't neglect the opportunity to visit some of the historical buildings in the town center around the large Náměstí Přemysla Otakara II (market square).
For instance the splendid Town Hall (built in the 18th century), the Black Tower with over two hundred stairs (built in the 16th century) and the Samson fountain situated in the center of the market square (erected in the early 18th century; the "Samsonova kašna" is the biggest fountain in Czechia).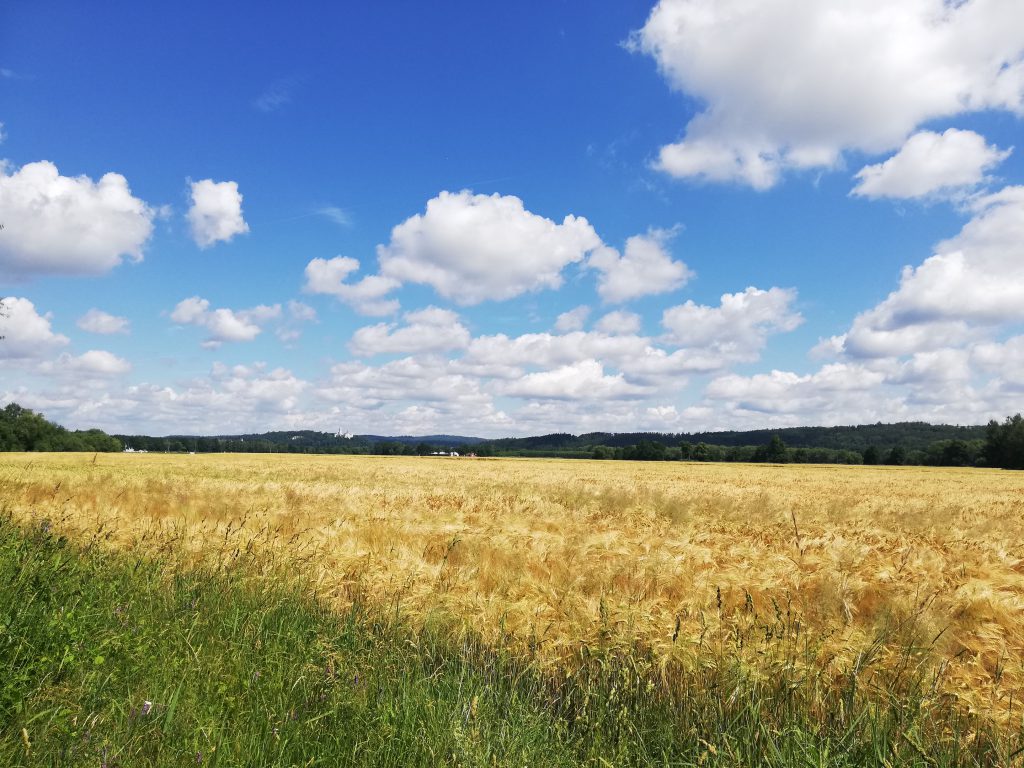 The camping site "Kemp a slalomová dráha České Vrbné" a few kilometers northwards the city center was my starting point for a nice short hiking tour alongside the Vltava (Moldau) upstream towards Hluboká nad Vltavou with its famous Hluboká Castle.
Třeboň
The town Třeboň (8.300 inhabitants) about twenty kilometers eastwards of České Budějovice is well-known for its carp breeding business and its fishpond systems (see below), but also for its tourism-sector consisting of numerous spa resorts.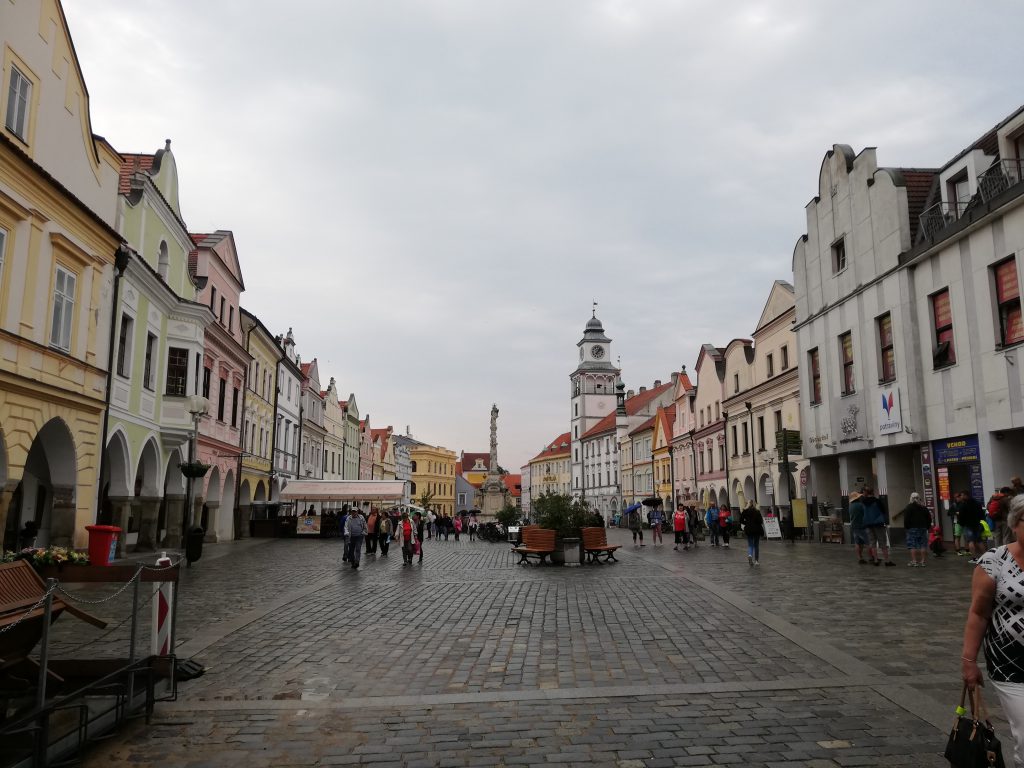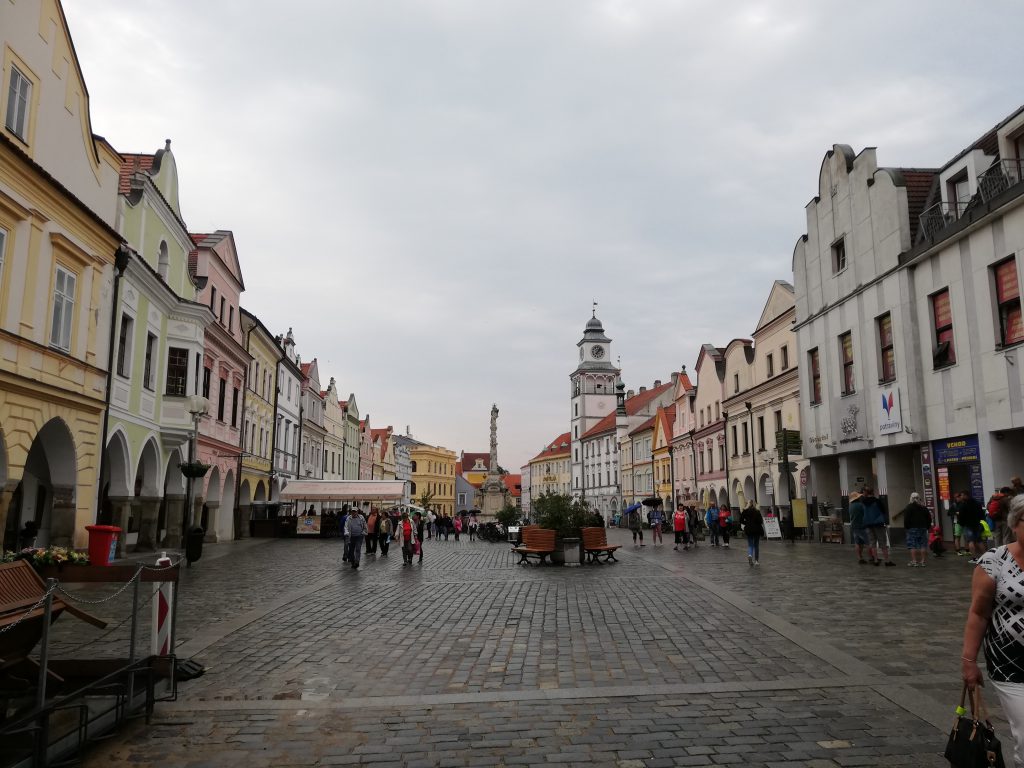 The town center is quickly explored, but very charming.
Most interesting here is probably the Zámek Třeboň (castle) adjacent to the town center with its appurtenant park (Zámecký park).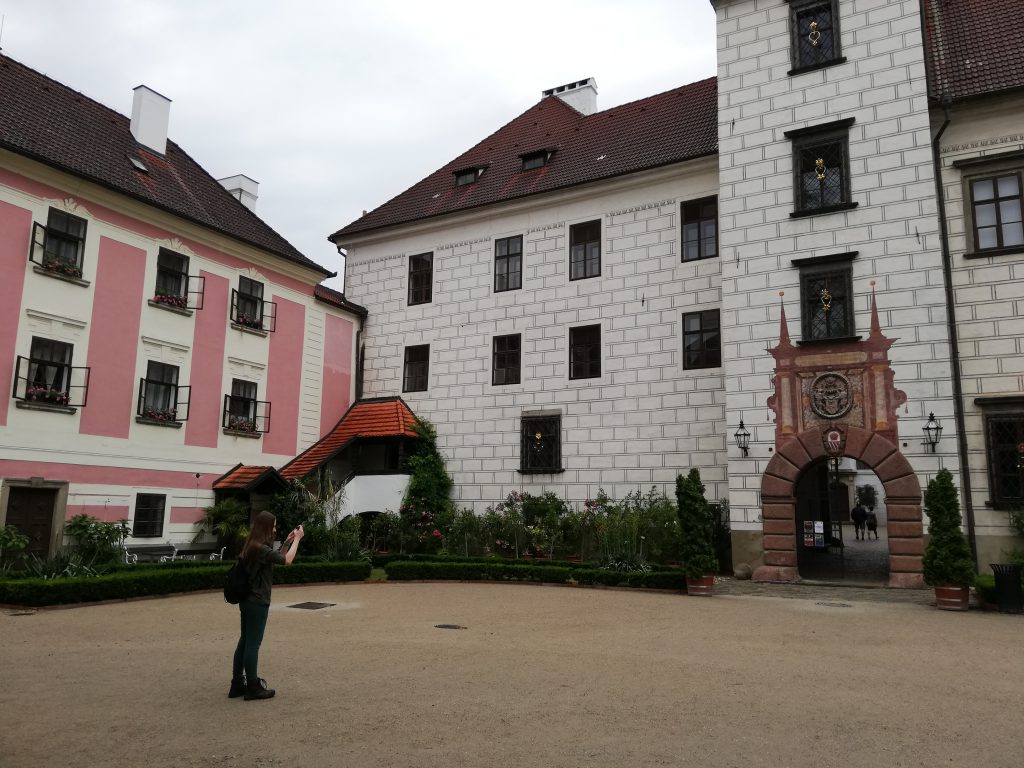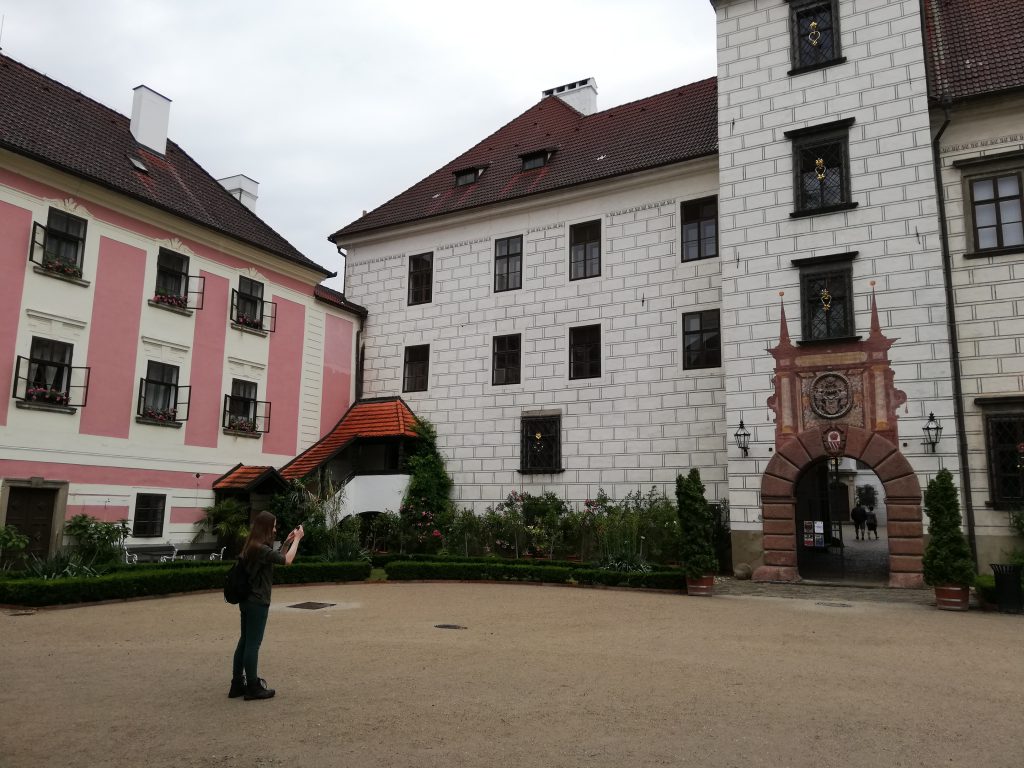 Břilice in the north is a district of Třeboň, and from there it is by foot only half an hour to some of the large fishponds in this area.
We decided to take more time however, a luxury thanks to the longest days of the year (summer solstice on June 21) since we started our walk in the late afternoon.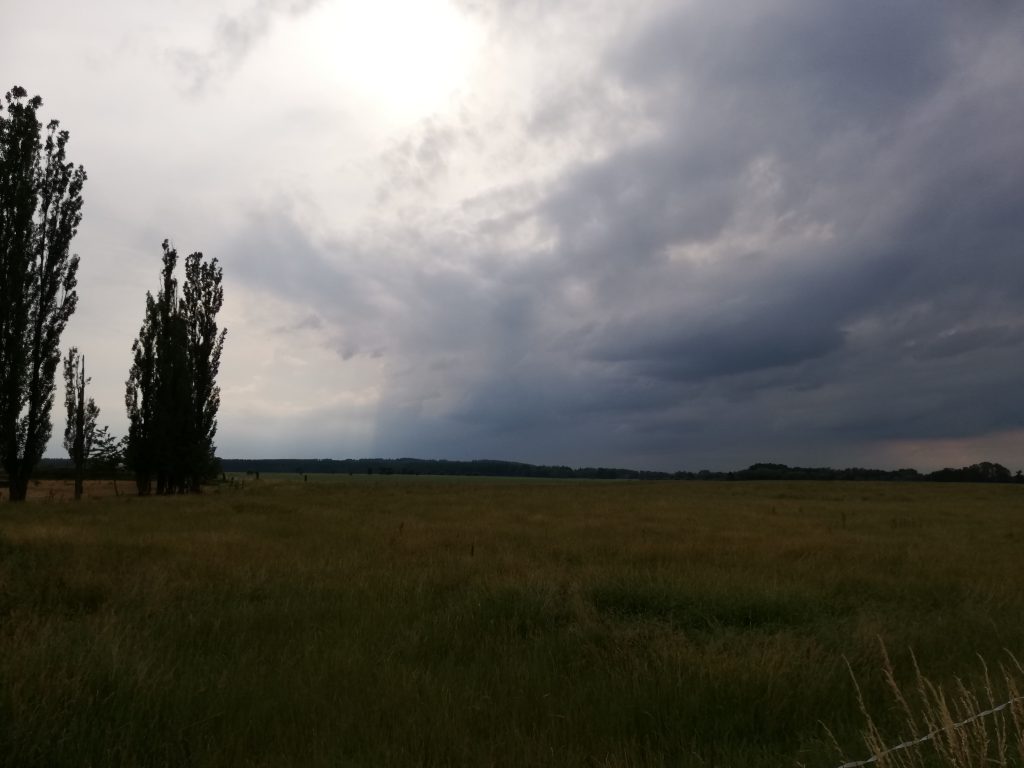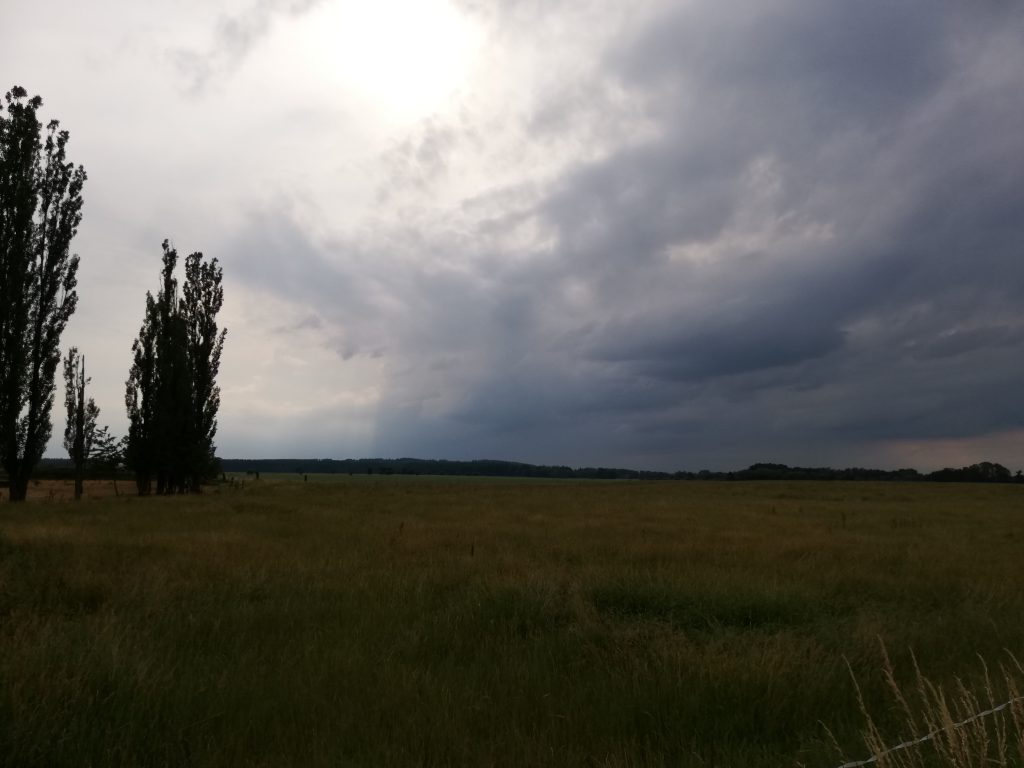 On our way there we grabbed the opportunity to gather a few of the delicious cherries which were growing abundantly alongside the rural road. And to rest and relax a lot.
Ponds around Třeboň
South Bohemia possesses countless fishponds and an extensive artificial fishpond system, with the Rožmberk it possesses even the largest pond in whole Czechia.
The so-called "Golden Canal" (Zlatá Stoka), a sophisticated system of water networks and reservoirs devised and constructed in the early 16th century, made it possible to feed and maintain these ponds for the primary purpose of carp breeding.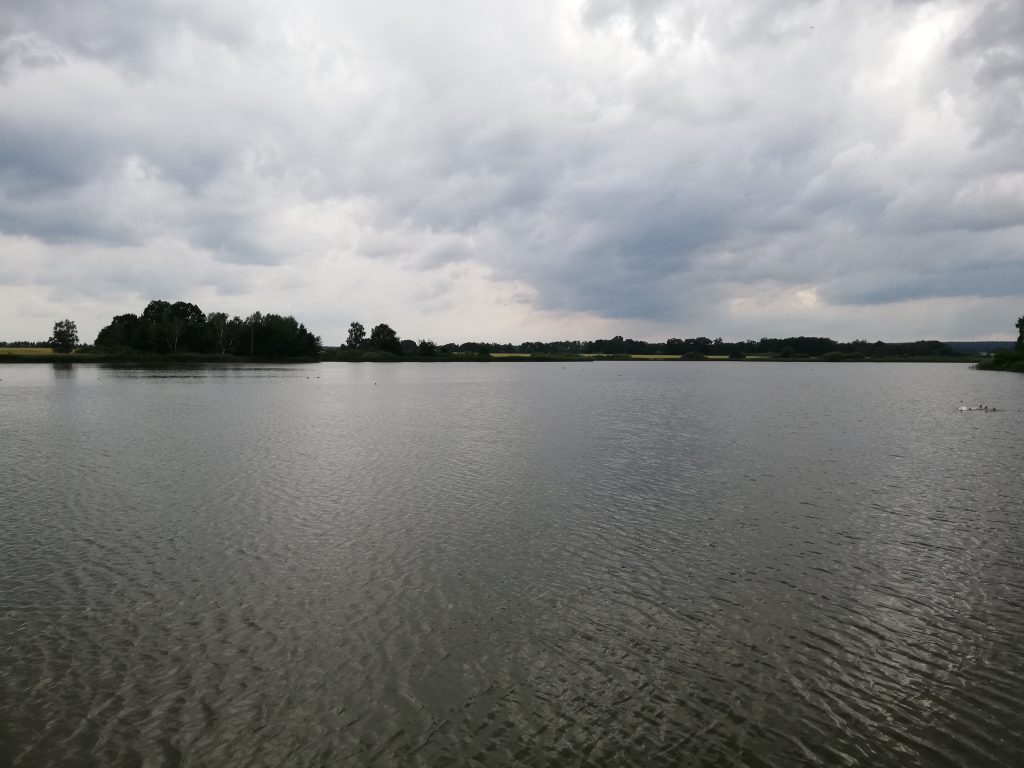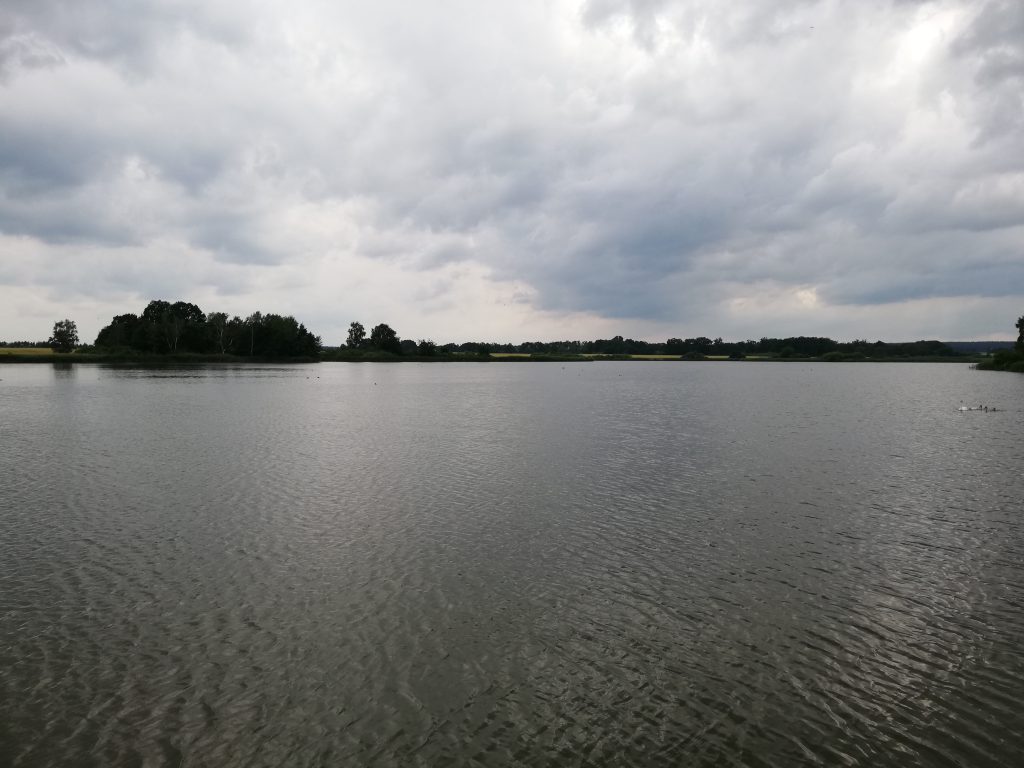 The characteristic trait of profitable fishpond management like the described is the extension of big ponds by several smaller, different sized reservoirs, which essentially constitutes the production basis for an effective three-level young fish breeding system (spawning, breeding and nurturing).
This system in its basic principle still serves its purpose in the 21st century, and its importance has not diminished in the course of the centuries.
The railway and a dam separate the Káňov pond from the Rožmberk pond, the last section of our small hike. We walked alongside this dam on our way back to Třeboň.
Unnecessary quarrels
Unfortunately, some quarrels were also part of my trip.
Traveling to České Budějovice on the first day of my vacation was no fun at all.
My train was two hours delayed (and all trains were overcrowded on this long weekend, but I had been too ignorant to expect it), the weather was terrible, and not one single hotel room in České Budějovice was available (I'd brought my tent, however building it up and sleeping in it would have been very uncomfortable at that point).
So I began moaning about these things by using another person as an emotional garbage can. I just forgot about how stupid it was to complain about stuff I have no control over (and which doesn't really matter, after all).
Life is ten percent about how things are actually occurring, and ninety percent about how we are reacting to it.
After being upset for an hour and plenty of pointless text-messages, I got aware of my childish demeanor.
I shut up, waited until the heavy rain weakened a little, took a taxi to the camping site, built up my tent and immediately went to sleep in my sleeping bag.
The very first thing to do after getting up was to apologize about the stupid rant, and then not to think about it anymore.
Conclusion
South Bohemia is beautiful. It is only a matter of time when we come back to this kraj, and then for cycling, kayaking or more extensive hiking tours.
Featured Image: Moldau and meadows near České Budějovice (Budweis)