Note
The following text is a sort of continuation of a past article about hiking tours in Northern Italy in fall 2020.
Cima Roccapiana, July 25
Mezzocorona, a town surrounded by large vineyards on 219 meters AMSL (Above Mean Sea Level; every height stated below is AMSL), is reachable from Trento by train within fifteen minutes.
The target I had chosen for this day was Cima Roccapiana ("Flat Rock Peak") in the north of Mezzocorona, boasting a height of 1873 meters.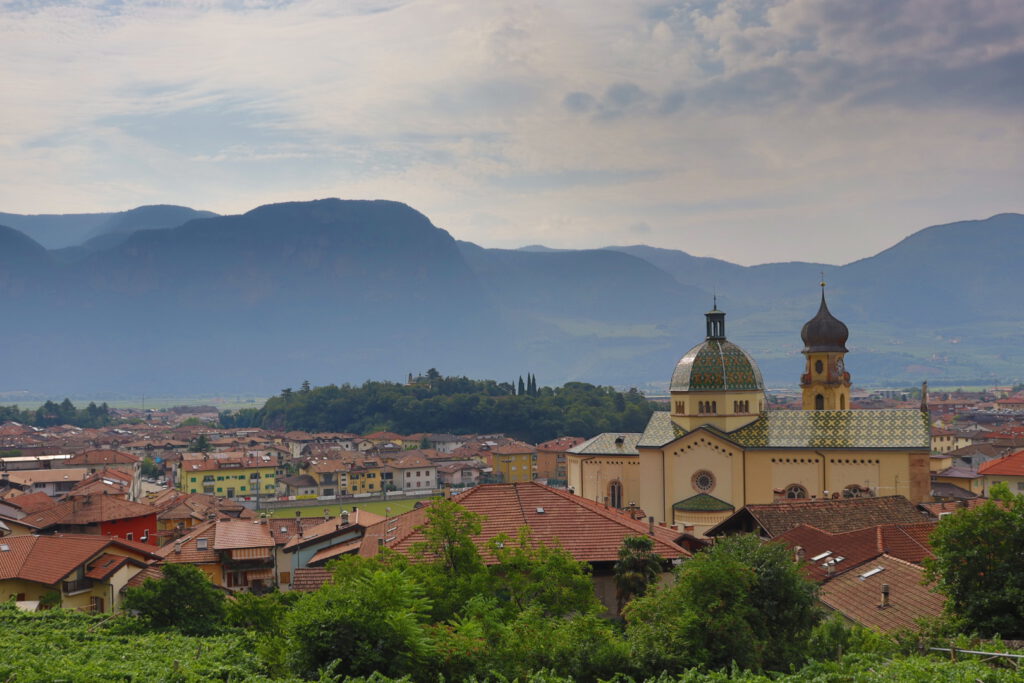 So I had to negotiate an altitude difference of 1654 meters, what was ambitious but nonetheless doable for a part-time mountaineer like me.
As it soon turned out, the area was rather easy to traverse though the signs at the trailhead told me otherwise.
Getting lost requires a high degree of negligence, the red and white markings are numerous and easy to spot along the way. The trail leads for the most part through dense forest however, so good observation points are comparatively rare.
After passing the Malga Bodrina chalet on 1551 meters, an inviting place for the random visitor and a kind of animal farm, the footpaths get less technical and less steep without any via ferrata sections.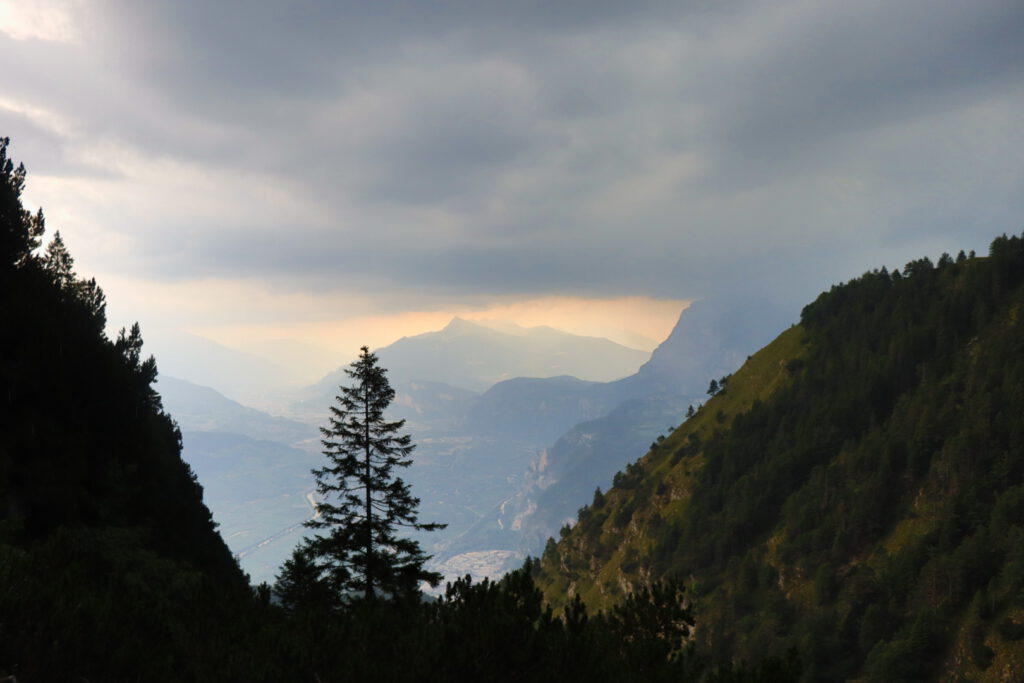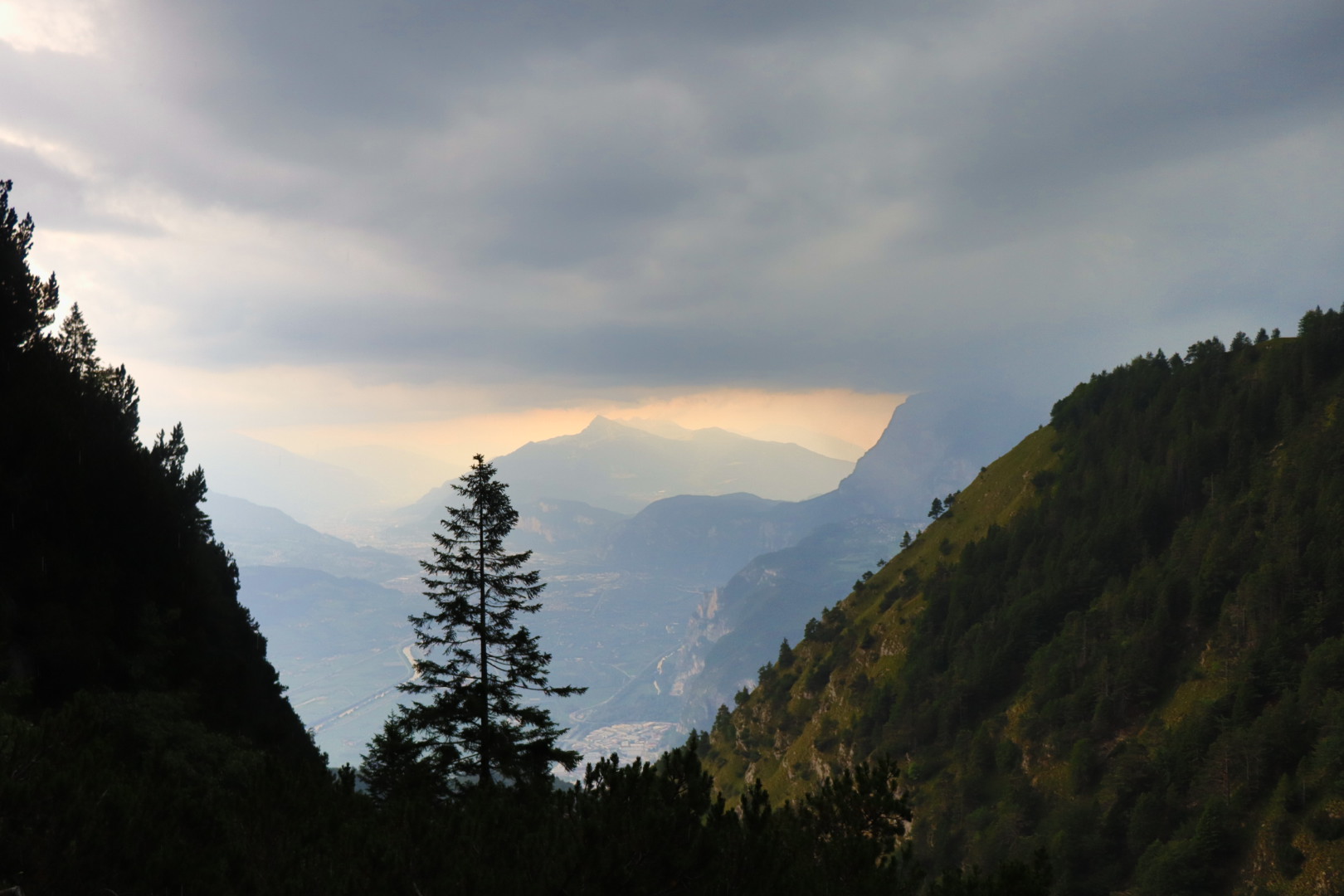 You can march to Cima Roccapiana from the cabin smoothly in under an hour, and there I had a nice view of the surrounding country eventually.
Il Palone (Cima Palon), July 27
The goal I'd set for this day was even more ambitious than two days before: Cima Palon in the south-west of Trento with a peak elevation of 2096 meters.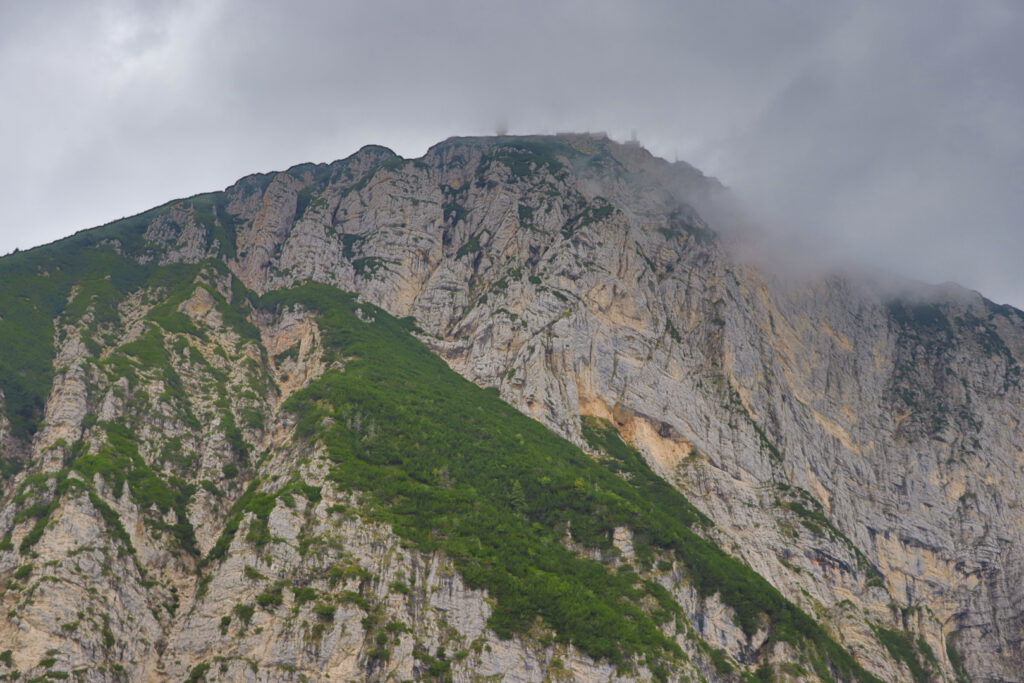 I started in the city center of Trento on 194 meters, and encountered for the next five hours thick forest and a difficult terrain with precipitous and slippery slopes.
It was becoming a little easier and also more interesting from the Parolet junction on (1540 meters, Parolet is a peak with 1577 meters altitude), with a broader trail (Sentiero della Val di Gola) and fortification structures to my left hand side stemming apparently from the World War 1 era, built into the solid rock like honeycombs.
Meanwhile the weather was getting worse, and proceeding the ascent was an unwise thing to do, as a matter of fact.
But the idea breaking a personal record (conquering 1900 meters altitude difference in six hours, after all) got the better of me in the end, and I reached Il Palone exhausted but happy in the mid-afternoon.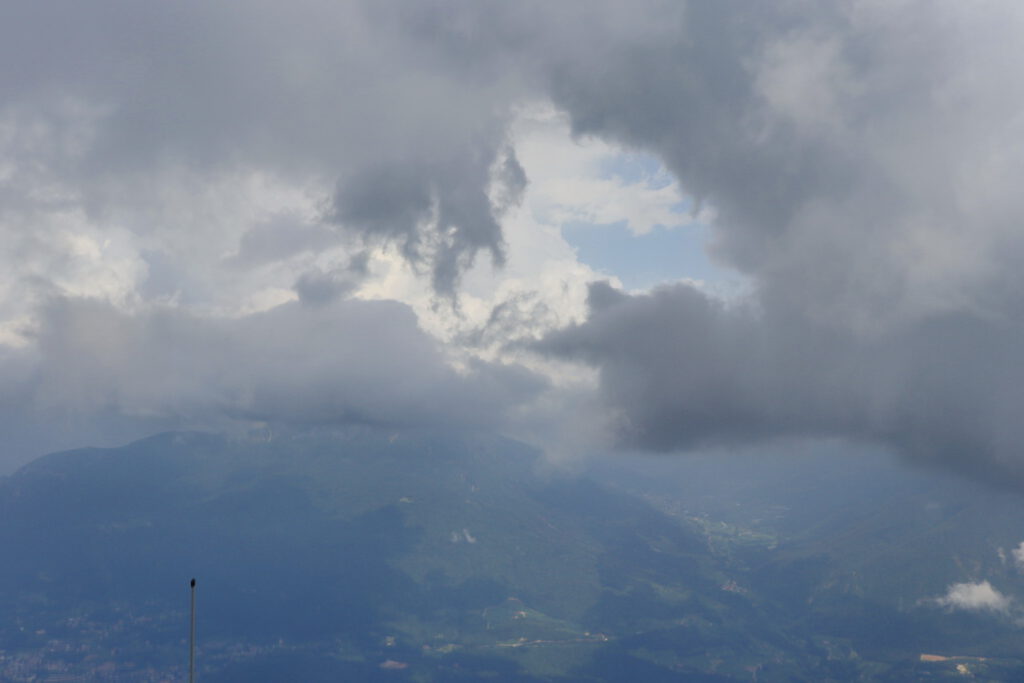 I did not tarry on the peak to marvel at the abandoned ski lift and the refuge, and descended quickly towards the small town of Vason on 1650 meters. Just quickly enough to avoid a massive thunderstorm that struck soon after.
Again I had a fair share of luck on a difficult and lengthy tour through a mountainous and quite unpredictable terrain.
Tullen, August 3
For visiting the impressive Aferer Geisler (Odle di Eores) mountain group I set off in the town center of Santa Maddalena (1250 meters), reachable from Brixen (Bressanone, South Tyrol) by bus in forty-odd minutes.
The highest peak in the mountain group is Tullen with 2655 meters, and making a bid for this summit was a slightly intimidating task on a very rainy and cloudy August day.
However, one can shorten the tour considerably in case of rather unpredictable weather conditions by starting at the Rifugio Zannes (1680 meters) just a few bus stops later.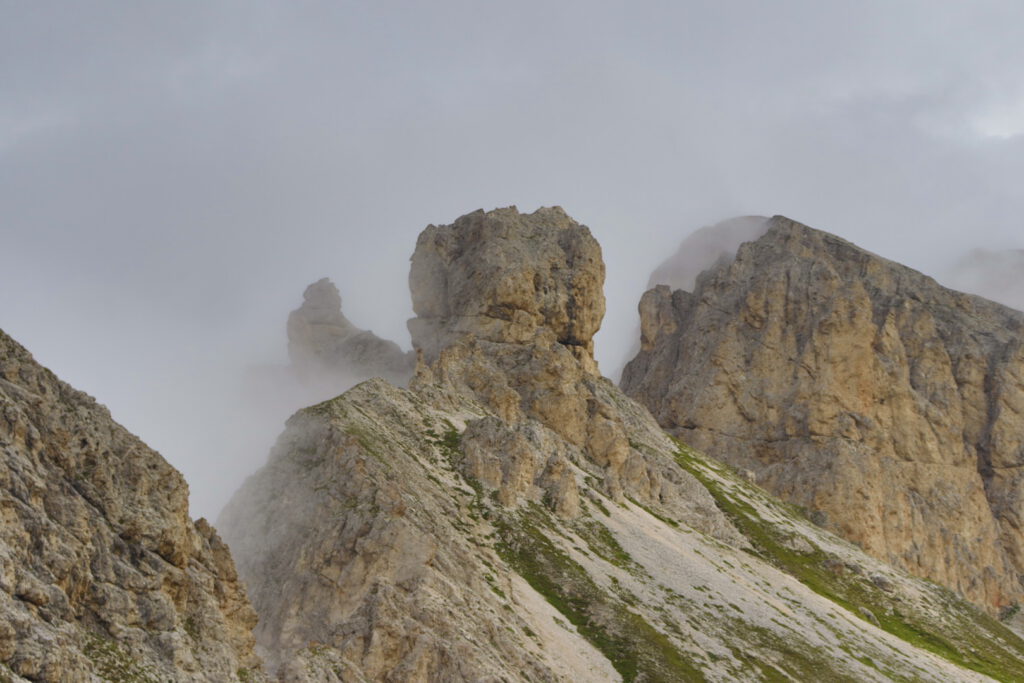 From there you have basically two opportunities to get to Tullen: either from the east across a technical section of the Günther-Messner-Steig (this trail leads alongside the mountain group), or from the west via the Oberer Herrensteig.
Conclusion
What I like about mountaineering (beside the socializing aspect) is the obvious uselessness of the activity, but also its simplicity: you set a certain target (a peak, a refuge or a mountain saddle) and then you just start utilizing your feet.
When you reach that target and perform well in terms of average speed and covered distance, you feel happy.
Even if you don't reach your self-imposed goal on that particular day you tend to feel content too, because you had been outdoors in a splendid mountain area.
Anyway, if the weather hadn't been so bad in Northern Italy in the past two weeks I would have visited the Brenta Dolomites as well (there exists a bus connection from Mezzocorona to Molveno which is a good entry point). There the mountaineer can find marvelous peaks which well exceed the 3000 meters mark.
Featured image: Near the town of Vason after the descent from Cima Palon